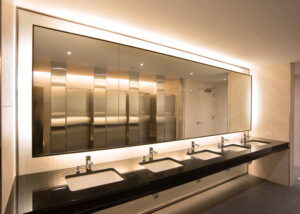 If you own a business or a commercial building, there are so many things to keep track of. Regular maintenance on all your plumbing and HVAC systems needs to be attended to. Sometimes repairs are necessary. It can be easy to overlook the ways that your bathrooms may be adding to your problems. While keeping things running and fixing things that break will keep your bathrooms basically functional, there comes a time when your bathrooms really need an upgrade. How should you approach revitalizing your commercial bathrooms? Here are three things you can do to really give your bathrooms a boost.
1: Efficient Fixtures
There are amazing new options when it comes to efficiency in plumbing. Low-flow toilets, aerators for faucets that decrease water usage while providing just as much hand-washing power, waterless urinals, and water flow restrictors can all cut down on not just water use but energy use as well. This isn't just a benefit for the environment. Using less water and less energy will mean spending a lot less money every time someone uses your bathroom.
2: Sanitary Options
In this day and age, people are more aware of the germs they may encounter on high-touch surfaces than ever. But even as far back as 2011, a survey of over a thousand people found that 94% of them would avoid businesses if they felt the bathrooms were dirty. You can help keep people healthy, help them feel comfortable and safe, and make sure they'll be happy to return to your building by providing fixtures that reduce the germ-laden mess in your bathroom. You'll also be keeping employees healthy, reducing the number of days they miss work. Touchless faucets are a great start! You might also consider touchless soap and paper towel dispensers or even air dryers. 
3: A Pleasing Appearance
There's no doubt that a shabby-looking bathroom is a reflection of the building and the businesses within it. When the drain in the floor is aged, pitted, and unable to be properly cleaned, no amount of fixing or cleaning the rest of the bathroom can hide that fact. (It may also be making your bathroom smell unpleasant!) Replacing all the unsightly utility features with gleaming, easily-washable new ones can make a big difference. And while you're considering the energy efficiency of various new faucet options and other fixtures, don't forget that they should also be pleasing to the eye. Because of the emphasis on green buildings and environmentally-responsible choices in recent years, there is no shortage of options that are both efficient and elegant. 
Rely on a Qualified Commercial Plumbing Team
Because commercial plumbing systems are very different from those you have in your home, it's important to make sure you hire a company whose employees are specifically trained and licensed to do commercial plumbing in Orlando, FL. Don't take any risks with your employees and customers and your valuable building! Make sure the installation and maintenance your bathrooms receive is top-notch.

Contact Modern Plumbing Industries, Inc. today and reach professionals with the training and experience your commercial building deserves.