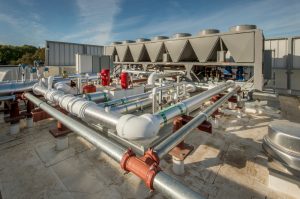 There's no season for plumbing problems—at least not in Florida, where frozen pipes aren't something we need to worry about in winter. The plumbing in your commercial building can run into issues at any time, and you'll need a trained and licensed commercial plumbing contractor to help you out with any repairs you may need. You can't trust a building "handyman" to fix commercial plumbing troubles, not if you want the job done right.
Early detection of plumbing problems makes it easier to arrange for repair services and prevent possible water damages or work stoppages. We know that you probably have a lot on your mind as a business owner or facility manager, but there are some simple signs you can watch for that will help you head off major repairs. Make sure you have a great commercial plumber's number handy (hint: look at the top of this page!) when you notice warning signs such as these:
Low water pressure: This is one of the earliest warnings of a major problem in the water main for a building, such as a partial blockage in the supply line. Low water pressure from the taps can also be a sign of large leaks occurring in the pipes. This could be a municipal issue, but if it persists, call for professionals.
Water hammer: This is a distinct banging noise coming from the plumbing, usually when a tap is closed off. This indicates that the pipes have lost their air cushions and water is coming to a sharp stop, creating the banging noise with a shockwave. This can damage the plumbing if it continues and even cause pipes to crack. Professionals can take care of restoring the air cushions or making pipe replacements.
High water bills: You certainly keep a close eye on all the finances for your company, which means looking at the water bill each month. Has the bill risen recently without any reason you can tell? This is a warning sign of hidden leaks, and there are many places in a commercial building where pipes are disguised behind brick, plaster, and other materials. Professional plumbers can locate any hidden leak—including leaks down in a concrete foundation—and have them fixed.
Slow drains: This is a warning that there are problems in the sewer line. A broken or clogged sewer line can quickly become a serious hazard for your building, possibly leading to a health code violation. If multiple drains around your building are draining slowly, don't wait to call for plumbers to locate the trouble. Call them so they can keep it from becoming more trouble.
If you need to hire a commercial plumber in Lake Mary, FL, we're the contractor to call. We're not only experienced with handling a wide range of commercial plumbing concerns, we're experts in new commercial construction plumbing. You'll have a hard time finding commercial plumbers who have more experience in Central Florida. We handle commercial jobs of all sizes, from small retail locations to industrial services.
Modern Plumbing Industries, Inc. has proudly served Central Florida since 1975.