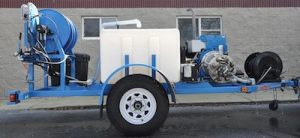 Almost any business uses plumbing of some type, and so they all need to turn to the services of commercial plumbers when they need repairs done or new fixtures put in.
A commercial plumber is also necessary for regular drain and sewer line cleaning. This is a job that business owners may not think about much, unless they are in the food service industry, but it is vital for any commercial plumbing system. The method we recommend for regular commercial drain and sewer cleaning is hydro-jetting.
What Is Hydro-Jetting?
It's the use of high-pressure water to scour the inside of drainpipes and sewer lines. A hydro-jetter consists of a large tank of water kept under high pressure by a motor. The water pressure is above 3000 psi and often much higher—it depends on the job. Attached to the tank is a long hose that the plumbers insert into the drainage system through a clean-out. Water is blasted out through the hose and a directional nozzle at the end that sends out the spray in all directions to provide complete coverage forward and backward along the pipe.
The force of the water blasts away all types of debris and build-up from inside the pipe, allowing it to flow down into the sewer line. Once the plumbers have completed jetting of the pipes, they use video camera equipment to examine the inside of the pipes to make sure they have done a complete job.
Why This Is the Choice for Commercial Drain and Sewer Cleaning
Hydro-jetting is a process that is thorough without doing any harm to the plumbing system. It doesn't require using any chemicals or harsh rooters, and it's more effective than either of those at providing cleaning. Chemicals can create corrosion inside pipes and shorten the plumbing system's lifespan, while rooters don't eliminate all the debris inside pipes, which makes it easier for build up to start again. The full cleaning power of a hydro-jetter, which uses nothing more abrasive than water, turns drainpipes and sewer lines to "like new" condition. Think of it as setting the clock back for your company's drainage system!
The only caution with hydro-jetting is that it must be done by licensed commercial plumbers. Using too powerful a hydro-jetter for a job does pose a risk to piping material. This isn't a mistake that a seasoned professional will make, however! A licensed expert knows the right equipment and how to adjust pressure to nozzle direction for the best cleaning that doesn't put the piping in jeopardy. The job can be done quickly to minimize disruption to a business, and it leaves behind plumbing that will offer few problems in the foreseeable future.
You don't have to look far for a commercial plumber in Lake Mary, FL who offers hydro-jetting. Using hydro-jetters is a basic part of our job, and we have the best commercial grade equipment to see that your business receives thorough drain and sewer cleaning. We'll keep your business clean and up to code.
Modern Plumbing Industries, Inc. has proudly served Central Florida with commercial plumbing since 1975.