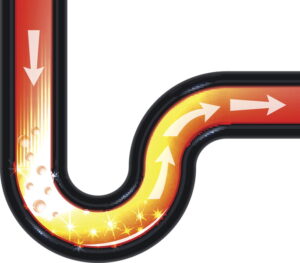 If you've talked to a plumber in our area, then we're sure you've heard of hydro jetting. Hydro jetting is a process where a plumber uses high-pressure streams of water in your pipes using specialized equipment. It's great because it can clear blockages without any wear or tear to your pipes. This is different than plumbing work of the past which involved a lot more trial and error.
If you need great plumbing in Orlando, FL, then we're the ones you should turn to. We're smart, reliable, and we've worked in the area dating back to 1975. If you need hydro jetting work, then we're the team to call. We're going to make sure the work you receive is perfect. 
What Hydro Jetting Does for You
If you talk to any plumbing professional about cleaning your drains or pipes, then it's likely that you'll hear them talk about hydro jetting. We prefer this service because…
Flexibility
One of the best things about hydro jetting is the flexibility. Plumbers with the ability to hydro jet are often sought after because the flexibility this service provides makes the work faster. This is great for homes in Orlando because a lot of the structures are older. This means that the pipes are often less accessible or fragile due to old age. Hydro jetting allows us to get in, maneuver around, and clean your pipes with accuracy.
Accuracy
As long as we're on the topic of accuracy, let's get into it. Hydro jetting is much better than other plumbing work because it's so accurate. It's accurate because we can look directly into your home's pipes and see what's going on in real-time. There's no guesswork with this process. We're going to see exactly what's going on and make sure that we address your needs accordingly. 
Removal of Odors
There's nothing worse than a plumbing system with an odor. Of course, your sewer system isn't always going to smell like a fresh bouquet of flowers, but if the odor is pervasive and makes your entire home smell foul, then it's a problem. It's time to remove the odor in your home through the use of hydro jetting. 
Affordability
The flexibility and accuracy of hydro jetting are what makes it so affordable. This is something that you can't discount. If you want to save yourself money not only on this job but also for years to come, then we suggest hydro jetting your pipes. Professional service makes all the difference and it's something we can perform for you with ease.
Environmentally Friendly 
The world is changing every day and we know we're all trying to do our part to keep our environment clean and safe. Hydro jetting is great because it doesn't involve any harsh chemicals that could potentially harm the environment. Instead, it just uses high-pressure water to get rid of all the trouble within your home's pipes. All you need to do is make sure that you have the proper plumbing professional to perform the work.  
Contact Modern Plumbing Industries, Inc. today to schedule an appointment with our professionals.