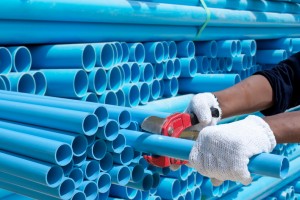 When we talk about "plumbing replacements," much of the time we're referring to putting in new plumbing fixtures that have worn down from age. For example, putting in a new low-flow toilet in the bathroom, or replacing a leaking kitchen sink faucet.
But there is another type of plumbing replacement that homes may need, which is extensive replacing of all the pipes. This repiping removes pipes that are suffering corrosion and decay from general wear. We're going to take a close look at when you should arrange for old pipe replacement and new pipe installation in Orlando, FL with our team of plumbers. You may not realize it, but the time could be now. A major plumbing break can lead to expensive property damage, and getting ahead of this is a wise idea.
How Long Do Pipes Last?
The answer to this question depends on the material of the pipes. Brass, copper, and galvanized steel, which are used for supply pipes, can last between 75 to 100 years. PVC pipes (polyvinyl chloride) in drain lines can last for 25 to 40 years, and cast iron in drain lines between 80 and 100.
Most of these life expectancies make it sound as if there's nothing to worry about as long as your home is under those age limits. But if the pipes are poorly maintained or there are impurities in the water (particularly hard water minerals), the pipes will have a much shorter lifespan. Any pipe material needs to have scrutiny to watch for decay and corrosion.
The Age of Your Home
Is your house more than 50 or 60 years old? In that case, regardless of the pipe material, we recommend that you have annual inspections to check for signs of plumbing decay and corrosion. You can do a few checks yourself on any of the piping that's exposed (such as a basement or crawlspace) to see if there is discoloration, gray areas (a type of corrosion called pitted corrosion), or flaking. If anything looks wrong, have a plumber come in to give the plumbing system a complete survey.
Never Ignore the Frequency of Leaks
Pipes will spring leaks on occasion, no matter the material. But when leaks are become a regular occurrence, even the smallest leaks, you are probably due for a major re-working of the plumbing. Leaking tends to spread, and when pipes are wearing down, leaking spreads faster and farther. Again, call our plumbers to inspect the plumbing and find out if it's time for significant repiping.
Lead and Polybutylene
But there are some pipes that, no matter what condition they're in or how old they are, need to be replaced as soon as possible. Lead pipes for drinking water present major health hazards, particularly when it comes to mental development in children. Polybutylene is a more recent plumbing type that was used during from the 1970s until about twenty years ago. The reason they aren't used any more is because they break easily.
If you have any questions regarding the status of your home's plumbing, we're happy to assist you. It's our job to see that your home has the best plumbing it possibly can so you can enjoy peace of mind.
Modern Plumbing Industries, Inc. has served Central Florida since 1975. Our qualified and trained team members are here to see all our customers receive the finest service.