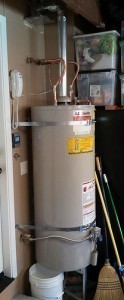 Hard water is bad news for a home in many ways. Here are a few:
It makes it tough to work up soap lather, turning simple cleaning and showering into hassles.
It leaves buildup on the inside of pipes that lowers water pressure and leads to clogs.
It stains laundry and dishes and leads to faded clothing.
But worst of all the problems with hard water is what it does to water-using appliances. The water heater is the most vulnerable. Hard water and a water heater are a bad mixture—and it usually ends tragically for the water heater.
We recommend you call a plumber in Apopka, FL if you have hard water in your home. A plumber can install the best solution—a whole-house water softener. This fixes all the problems we mentioned above, and it may save your water heater from an early replacement.