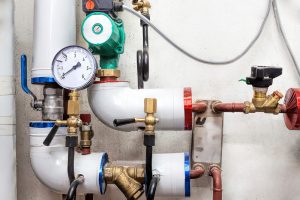 Almost any business relies on indoor plumbing, making regular plumbing service essential for successful operation. Food service companies have even higher plumbing needs, and poor plumbing upkeep can lead to a business shutting down because of code violations.
Although you can always depend on our commercial plumbers for fast repairs for your business—leak detection, booster pump fixes, sump pump replacements—we strongly recommend you arrange for regular commercial plumbing maintenance through one of our customized maintenance agreements. Below are two of the critical services (among many) that come with routine plumbing maintenance for your business.
Thorough Drain Cleaning with Commercial Jetting
Of all the tasks that our commercial plumbers do as part of routine maintenance, commercial drain cleaning is perhaps the job that our customers benefit from the most—particularly customers who run a food service company. All the food waste and cooking products that go down the drains easily create a thick organic build-up on the walls of the drainpipes, making clogs easier to start and creating foul odors. This can bring a stop to your business and may even lead to health code violations.
Regular commercial drain cleaning scours away the interior of drainpipes with blasts from hydro-jetters. These devices are powerful tools that can safely remove any level or type of build-up from inside the drains. Once our commercial plumbers have finished hydro-jetting the drains in your establishment, you can expect to have almost no problems with drainage for the coming year. (Of course, you can also call on us in case of an emergency clogging problem.)
Backflow Prevention Inspection
One of the key maintenance tasks many businesses require for their plumbing is regular inspection of the backflow prevention device. The backflow preventer is a large assembly designed to prevent the cross-contamination of the municipal freshwater supply with waste water at cross connection points. A spike in pressure from the sewage side, or a drop in pressure from the freshwater side, will cause water contaminated with bacteria and other hazardous materials to enter into the potable water. One of the reasons this happens is when there is a fast drain on fresh water because of a sprinkler system or the fire department. The backflow assembly on a commercial property uses a check valve to prevent water from flowing the wrong direction.
The backflow prevention device on your commercial property needs to have regular inspections to see that it's working correctly, as set by the city regulations. This inspection must be done by a licensed professional. We have these licensed plumbers on our staff, and if regular backflow preventer inspections are necessary, we'll make this part of the maintenance contract. You won't have to worry about being shut down because of a health code violation.
Speak to our staff today to find out more about our commercial plumbing maintenance contracts for Orlando, FL and elsewhere in Central Florida. We can fully customize these contracts to meet your specific needs. This can mean regular backflow inspection or other preventive maintenance. Our commitment to you is quality, value, and performance!
Modern Plumbing Industries, Inc.: Proudly Serving Central Florida Since 1975. Celebrating more than 40 years of exceptional commercial and residential plumbing service.