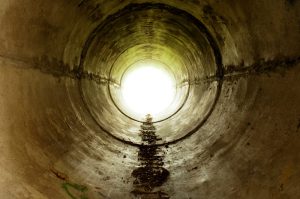 The sewer line is a part of your home's plumbing that thankfully does its job far from sight. But because it's hidden in the ground, it's tricky to tell when the sewer line first develops breaks. Since you want to have a broken sewer line repaired (or in some cases replaced) as soon as possible before the break turns into a larger, more expensive problem—one that can create extreme unpleasantness in your home—you have to keep a watch for early warning signs that something is wrong.
Here are a few indications that you have breaks in your sewer line that require sewer repair services:
Clogs in multiple drains
We put this warning sign in the title because it's often the first one people notice. A single clog in a drain in a house is usually nothing bigger than a need to have the drain cleaned. (If you can't clear the clog with a plunger, we're glad to help with professional drain cleaning.) However, if clogged drains are starting to become a house-wide issue, the trouble is probably deeper down in the drainage system, such as in a broken sewer line. It could also be a clog in the sewer line, rather than a break. But no matter if you need the sewer line repaired or cleaned, let our plumbers handle the work. We'll be able to tell what service you need done.
Damp, smelly spots on the yard
If the sewer line has breaks in it from corrosion, tree root infiltration, or other problems, sewage will escape and rise to the ground. You'll notice soggy spots on your yard that give off a nasty smell. Never ignore this! It's almost a certain warning that a sewer line that has to be repaired as soon as possible.
Gurgling drains and bad odors
If sewage is starting to back up into the drains, one of the early signs that it's happening—often before any clogs start to bother you—is a gurgling sound from the drains after water has been poured down them. This is the sound of sewer gas bubbling up through the water. You may also detect sewer odors coming from the drains. These foul smells are sometimes the result of a dried p-trap, and pouring water down the drains for about a minute should take care of the problem. If it doesn't, or if the odors are coming from more than one drain, call for plumbers right away to see if you have sewer line problems.
For service for your sewer line in Winter Springs, FL or the surrounding areas, make sure you only call on licensed and experienced plumbers. Proper repairs/replacements for a sewer line is a big and sometimes messy job that has to be done right—and you can depend on our plumbers to do it right. (And we don't mind the messy part either; it's our job to see that you don't have to worry about it!)
Modern Plumbing Industries, Inc. has served Orlando and the rest of Central Florida since 1975.