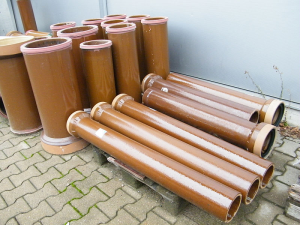 So when you think about what an Oviedo plumber does, what do you think of? You probably think of the other plumbing services we provide like plumbing installation, repair, emergency services, sewage services, pipe replacements services, kitchen plumbing, bathroom plumbing, and more. The central theme through what you're thinking that a plumber does is surrounding your home's pipes. It's true that we handle straightforward plumbing work, but we also perform natural gas services. 
If you ever need gas pipe installation or even gas appliance installation, then we can be the ones who handle it. You're going to the right professional when you choose a plumber. Let's get into why below.
Natural Gas and Plumbers
A lot of people are shocked to hear that plumbers are the appropriate professionals to handle natural gas services. You might not know, but natural gas lines have a lot more in common with water lines than you might think. The standard materials used for natural gas lines are steel, plastic, and copper. These are the same materials used in plumbing work. Plumbing professionals are specifically trained to understand how to work with these materials so that they can provide you with quality work that keeps your home safe. 
The Importance of Timing with Your Plumbing Care
If you talk to any professional about your natural gas work they're going to emphasize the importance of professional plumbing care. This is because natural gas leaks are always a possibility in your home. You need to do your best to make sure that your plumbing system is equipped with the right care to make sure that everything goes well.
Going with an amateur for this work can increase the risk of disaster. Although it's something that we highly suggest because it's a smart idea, we also suggest it because it's required by law in most areas. Amateur work is never worth the risk. Even if you think you're going to save a substantial amount of money, the risk isn't worth it. Our professionals can provide you with quality service for an affordable price. 
Professional Care Is Important Regardless 
We're here if you'd like to work on your natural gas appliances as well. Questions we get about plumbers and natural gas tend to center around natural gas lines. This isn't the only thing you can contact us for though. If you need help with your stove or your natural gas range, then our professionals are here to help you with this as well. 
We can even be by your side if you're looking for suggestions surrounding appliances. We know that there any many options at your disposal. There are so many that the process can easily be overwhelming. If you're trying to narrow things down, we want to help you with the process and with the installation. Our team members are a cut above the rest because we make education an essential part of our service as well. You're sure to leave knowing more after talking to one of our team members. 
Contact Modern Plumbing Industries, Inc. today to schedule an appointment with our professionals.