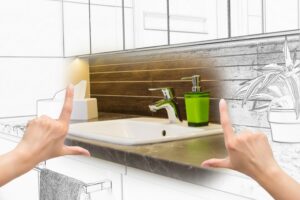 You're at the point where you realize that you don't need two sinks in your bathroom. Maybe you're the only person who uses this bathroom or you're just in harmony with whoever you share the bathroom sink with. Only one sink is needed. You want to downsize but you're not sure that it's possible. We're here to tell you that it is.
We have the right plumbing professionals to handle the work you need. If you need emergency plumbing in Orlando, FL.
The Process of Converting to a Single
So first, let's talk about the process of converting a double sink to a single sink. What does it take?
The transition from a double to a single is actually pretty simple. Unless your set-up is super unique, your sinks should join within the cabinet. This means they end up going into the same drainage pipe. In other circumstances, each sink can have its own drainage system. If this is the case for you, our professionals can do the work necessary to merge your internal plumbing before they make your double sink set up into a single one. You need professional care to make this an easy switch in your home. Make sure that you come to our team for this service.
The Benefits of Hiring a Professional
Now that we've touched on how this can be done, we'd like to discuss why it's so important for you to go with a professional for your services.
Your Plumbing is Intricate
Your home's plumbing is intricate. Taking care of your home's plumbing now means that you're going to prevent future plumbing problems. We know what it's like to want to save a little money. Plumbing services can be quite expensive. Cutting corners isn't as beneficial as it might seem.
Yes, you might be able to save a little money upfront, but it's not going to benefit you as time goes on. You need plumbing care that prioritizes longevity. This is why your home's plumbing needs the care of the professionals on our team.
Prevents Water Damage
The last thing you want is water damage in your home. Water damage causes potential health hazards, but it also can become a major problem for the structure of your home. Water damage is bad across the board. That's why you should always invest in quality care from a team of professionals like ours. We care about providing high-quality work. We never cut corners and we make sure that your plumbing work is done with care.
Safety
We touched on this above, but plumbing problems can actually become a safety problem in your home. If your home incurs water damage, then it's going to become a problem for your home's safety. This can become a bigger issue with mold and mildew. You want to protect the personal health of you and your family members. We're the team that can make this a reality through the care of our professionals.
Contact Modern Plumbing Industries, Inc. when you're ready to renovate. We also offer emergency plumbing in Orlando, FL if you need it.