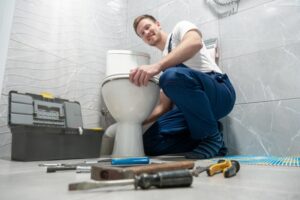 If you're concerned about something in your home, you may be wondering who to call to get it sorted out, or just to find out more about your home's systems. Our team is committed to helping our customers understand their homes and their needs as fully as possible because a knowledgeable customer will be better equipped to make decisions they'll be happy with in the long term. A satisfied customer is more valuable to us than a big check, because satisfied customers keep coming back, and they also pass along the word that Modern Plumbing Industries is a reliable and trustworthy partner in home plumbing service in Orlando.
We'd like to explain what plumbing services we offer, and what is included in those services, so you'll be better able to get the plumbing help you need.
Routine Maintenance
One service we strongly recommend is regular plumbing inspections. It's all too easy to have something go quietly wrong in a place that's hard to detect. With techniques like video pipe inspection, our skilled and experienced plumbers are able to actually look inside your plumbing. They can give you a lot of information about the age and condition of the piping throughout your home, pinpoint small concerns before they become big problems, and help you make a plan for any future repair needs. Maintenance service also includes drain cleaning, giving your home a fresh start free of clogs and buildup.
Installation and Replacement
Do you need to have a new home plumbing system or fixture installed? The first thing our plumbers will do is a thorough inspection. The layout of your home, the capacity of the plumbing system, and the needs of your family will all be factors in determining how to make this installation work as well as possible for you. Sometimes, the inspection will reveal that replacement is unnecessary and repairs will be an effective and less costly solution. As we said, we'd rather have a happy customer in the future than more money now. 
We can install new water-saving equipment to lower your bills and benefit the environment, multiple fixtures if you're adding a bathroom to your home, water heaters, sewer pumps, backflow prevention systems, and even new sewer lines or main water lines.
Repair
If a plumbing fixture in your home is broken, leaking, or just not working right, our team is qualified to handle it. We use sonar leak detection, which can pinpoint the source of a leak using just the power of sound, so we don't waste time or do unnecessary damage trying to uncover where water is coming from.
We repair sinks, tubs, showers, toilets (including low-flow and dual-flush models), and much more. Whether you need emergency repairs on a Sunday night for a gushing leak or you want to schedule a time to get your garbage disposal working more smoothly, we've got your back.
Gas Services
Did you know that the pipes bringing natural gas into your home for your furnace or other appliances are also serviced and repaired by plumbers? It's absolutely critical that amateur homeowners or DIY enthusiasts never attempt gas line repair. If you have any concerns about your gas system, we'd be happy to discuss them with you.
Contact Modern Plumbing Industries, Inc. today and reach professional plumbers with the training and experience your home deserves.