Hot showers and baths, clean sheets, linens, and clothing, pristine dishware—you rely on your water heater more than you may recognize. With professional installation and plumbing maintenance, your water heater will last for years, but eventually it may be in need of repair, or even replacement. Call Modern Plumbing Industries, Inc. (MPI) today for comprehensive plumbing services, including water heater installation, repair, replacement, and maintenance.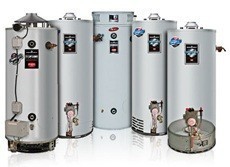 Here are several water heater FAQs: 
Should I get a tank or tankless water heater? Great question. It's certainly one that's likely a common concern for those homeowners looking for a new water heater. Work with a plumber to figure out exactly how much hot water you need on a daily basis. While tank systems tend to be more cost-effective upfront, tankless systems often achieve much better energy efficiency in the long-term.
What's a hybrid water heater? A hybrid water heater is a highly energy efficient option for producing hot water in the home. It's called a "hybrid" system because it utilizes conventional natural gas as a fuel supply, as well as an electric heat pump. The latter component draws in thermal energy from the air surrounding the heater itself, thus reducing the amount of natural gas necessary to produce hot water. A hybrid water heater gives you energy efficiency options without sacrificing the comfort of certain hot water when you need it. 
What's that strange sound coming from my water heater? If there is a rumbling or boiling water sound coming from the bottom of your water heater, you may have excessive buildup of sediment or scale at the bottom of your tank. This can lead to increased damage and scalding temperatures so it's best to get it checked out by a professional plumber as soon as possible.
Call  Modern Plumbing Industries, Inc. (MPI) today for comprehensive Winter Springs water heater services.