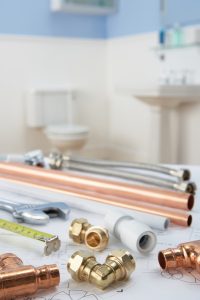 In the first half of the 20th century, and in fact all the way up through the 1970s, the most common type of material used in fresh water pipes for homes and businesses was galvanized steel, lead, cast iron, and even clay. But the cost of these materials, the ease with which they broke and corroded over time, as well as the dangers they posed from allowing toxicity into drinking water, led to them being replaced with new materials by the 1980s: principally copper and various types of plastic such as PEX, PVC, and CPVC. These newer piping materials reduce costs, benefit the environment, last longer, and help keep drinking water safe for households.
When you call on our plumbers to replace pipes or to handle more extensive repiping services in Winter Springs, FL, they will use a variety of different materials to see that the best job gets done. And the two materials we favor the most are copper and CPVC (chlorinated polyvinyl chloride).
So why are these two the piping materials of choice? Let's take a closer look.