Consumer advocate, AsktheSeal.com, warns Florida residents to beware of contractors who will flood the area as the waters of Tropical Storm Debby recede.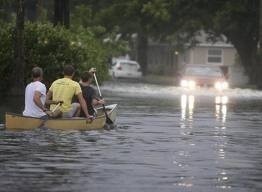 Modern Plumbing Industries, Inc. offers reliable plumbing, drain and sewer, water treatment, and commercial plumbing services in the Orlando, Winter Springs, Orange and Seminole County areas. We have almost 40 years of experience serving Central Florida residents and their particular needs.
Opportunistic companies and workers will flock to Florida looking to clean up financially in the wake of Tropical Storm Debby. Many of these companies are unlicensed or uninsured and not familiar with local building codes. Some are opportunists who will take deposits and disappear. Others will hire unqualified day labor to do the work and these companies are nowhere to be found when problems with the work are discovered.
 "The risks of hiring an unlicensed, uninsured or out of town contractor to work on your property are significant and they are both financial as well as physical risks" according to AsktheSeal.com founder, Edward Marchiselli.
The work they do may not meet local codes which can result in a dangerous situation, more damage or expense, as well as make it difficult to sell your property at a later date.
If any problems occur after the job is complete, you may not be able to find that company who will be off chasing another storm somewhere else.
If more damage is done as a result of unlicensed work or someone is hurt during or as a result of the unlicensed work, many insurance companies could deny the claim leaving the property owner holding the bag.
Property owners in Florida can be fined up to $5,000 for hiring an unlicensed contractor.
Many of the storm chasers will hire day laborers and do not perform criminal background checks so you may be inviting dangerous criminals onto your property.
AsktheSeal.com suggests you stick to a local company who has a good track record and solid reputation in your area. If you do not know of any such contractors in your area, you can find quality companies for free on AsktheSeal.com. AsktheSeal.com verifies licenses, insurance and customer service record before awarding their Seal of Approval. They also perform annual criminal background checks on owners and employees and issue photo IDs confirming their background checks. Companies with the Seal of Approval can even email you a photo of the employees coming to your property. If you can't find a company in your area on AsktheSeal.com, Marchiselli suggests you take the following steps:
Verify if a state license is needed and if your contractor has one at www.myfloridalicense.com .
Request a certificate of insurance be sent directly to you from the contractor's insurance company.
Contact your local building department to see if any local licenses or permits are needed for your job and ensure that any necessary permits are pulled and completed.
Make sure you understand Florida's lien laws so you don't end up paying for the job twice. http://www.myfloridalicense.com/dbpr/pro/cilb/documents/florida_lien_law.pdf .
Perform an internet search on the company name as well as the owner's name. Try it again with the word "complaint" at the end of the name. Look past the first page of results.
Do not pay until the work is complete and permits are closed. Pay by credit card when possible.
Get everything in writing. If it's important enough to promise in the sales pitch, it's important enough to document in the contract.
Find out if the company performs criminal background checks on the employees they are sending to your property. Ask them to prove it. Will their employees be driving marked cars? Will they be wearing uniforms and photo IDs?
Put away any visible cash, jewelry, guns or pharmaceuticals. Make sure all windows and doors are locked after workers exit your home or business.
Taking these precautions will help ensure a quality job while helping to protect your financial interests as well as the safety of your family.
www.asktheseal.com  is a consumer advocacy company and website based in Tampa, Fl. The peace of mind that AsktheSeal.com provides is priceless and is therefore free to consumers. Consumers depend on AsktheSeal.com to learn how to select the best and safest company for the job and to find companies with the Seal of Approval. Reputable companies depend on AsktheSeal.com to distinguish them from corner-cutting competitors who pretend to offer the same safety and quality standards.