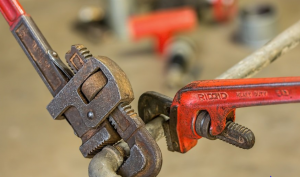 As the summer slowly gives way to autumn's falling leaves, you can begin getting more and more excited. It is a sign that the year is nearing its end, and the holiday season will soon be around the corner. Before you know it, you will be gathering around tables with family and friends and enjoying all the festivities.
Of course, you can forget about some significant issues at home amid all that excitement. With the cold winter months come a slew of plumbing problems. Before you start making all the preparations for your holidays, you should take steps to protect your plumbing this holiday season. You can always get in touch with us if you need services of a Sanford, FL, plumber to come in and take a look at the plumbing.
We've written a few tips that can help you protect your plumbing this holiday season below.
Don't Use the Garbage Disposal for FOG
A big meal can clog more than just your digestive system. That fulfilling feeling of having a Thanksgiving turkey is next to none. You feel so satisfied and sleepy from the food coma-inducing meal. If your plumbing is also feeling bloated, you can have a problem on your hands.
The most common plumbing problem people see is clogged kitchen sinks. It happens mostly because we are guilty of dumping the wrong food items down the drain. While the garbage disposal can allow food to go through, certain materials can clog the drain. It is a particularly common problem with fatty, oily, and greasy food. Instead of letting FOG clog your drains, get rid of it in the trash.
The Bathroom Plumbing Needs Attention
The holiday season sees a lot of people come and go from your home. With so much foot traffic, there's a lot of use for your bathroom. With more people using the bathroom, the chances of something going wrong increase. All it takes is that one annoying nephew who uses too much toilet paper to create a massive plumbing emergency.
Make sure you keep an eye on the plumbing system and remind everybody to use toilet paper responsibly. Call us in on the first sign of trouble.
Schedule a Water Heater Tune-Up
The best thing about the holiday season is for everybody to start arriving home to enjoy with their friends and families. You need to make sure that your water heater is working properly before the guests and family arrives because hot water will be in high demand. Make sure you schedule our services for a water heater tuneup beforehand.
Don't Delay Calling the Experts
If you face any plumbing issues in your home before or during the holiday season, don't hesitate to give us a call. At Modern Plumbing Industries, Inc., we provide emergency plumbing services all over Florida to make sure you can enjoy your holiday festivities in peace. You might feel tempted to fix the problems yourself. However, you can end up creating a bigger mess if you don't know what you're doing.
We will be available to address any plumbing emergencies you can face with our team of well-equipped 24-hour plumbers.