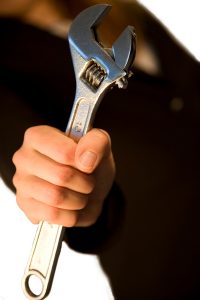 You've got a plumbing task you need done for your home or your business. Who do you call? You can have a local handyman on the job. Or you might break out that toolkit of wrenches. After all, why not save some money this way rather than go with a licensed plumber?
We need to stop you right there—it's vital you only hire a licensed professional plumber for any job more complicated than using a plunger on a clog or cleaning aerators in faucets. Going with non-licensed plumbers can result in serious consequences.
But Can't a Non-Licensed Plumber Do These Jobs Just As Well?
Yes, it's possible. Technically, licensing doesn't prohibit an amateur from doing work on plumbing—with the exception of sanitation systems connected to the public system. You can always try to do a plumbing job yourself, after all. But you never want to trust these jobs to non-licensed amateurs, and that includes you. A plumber with a license is a plumber who can handle work responsibly, accurately, and safely, as well as protect you from incurring high costs associated with bad plumbing work and even damage or injuries.
So, can a non-licensed plumber do a good job? Maybe. But never take that chance!
What Does a Plumbing License Mean?
A plumber doesn't get a license by showing up at a government office, showing valid ID, and then signing a few forms. Being issued a license requires a plumber to meet strict qualifications.
Technical Proficiency: A plumber who receives a license must be able to show they are knowledgeable and skilled at meeting the local plumbing codes and any work they perform will meet those codes.
Responsibility: A licensed plumber must show they understand the importance of completing work safely and to protect the health of people in a home or business. The plumber must understand all safety rules and regulations. This is especially important regarding work on sanitation systems such as sewer lines.
Insurance: A plumber must have the proper insurance to protect a homeowner or business owner in case of any damages or injuries that may occur during a job.
We want to draw attention to the last point, because its importance is sometimes overlooked. If you have an unlicensed plumber come onto your property, you could be liable for damage done to your home or business or liable for injuries to the plumber in case of accidents. Home or business insurance often won't cover this! A licensed plumber has the proper amount of insurance (as required by the state) to see you are not liable for anything that isn't your fault during plumbing service.
When you are looking for a plumber in Winter Park, FL who is fully licensed and insured, you do have many options. But when you call us, you'll get one of the best plumbers around for the job. Our plumbers are not only skilled and experienced, but they take pride in everything they do. They aim to get each job done right the first time and forge lasting relationships with customers through trust.
Need a great professional plumber? You've found one! Modern Plumbing Industries, Inc. has proudly served Central Florida since 1975.