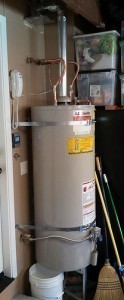 Corrosion is metal's biggest enemy, and it's fair to say that nobody wants any appliance they own to suffer from the weakening effects of corrosion. It's one that especially applies to water heaters, which combine metal, water, and oxygen—the perfect mixture to start the chemical reaction that leads to corrosion.
Fortunately for your water heater, it was designed with the dangers of rust and other forms of corrosion in mind. It has a number of safety designs to keep rust away: the inside of the tank is lined with glass; an overfill tank creates an air cushion for the water pressure without actually allowing oxygen into the tank; and a special device called an anode rod that runs from the top the bottom of the tank attracts corrosion to it so that it rather than the tank corrodes.
However, corrosion still can't be prevented 100%. Your water heater may at some point start to show signs of corrosion. If this occurs, is it automatically time to replace the water heater?