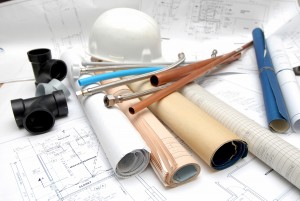 The term slab leak is a bit of plumber-speak for any leak that occurs in the cold or hot water pipes set down in the concrete foundation of a home. It can also refer to any pipe down in a rock surface, but for residential buildings this almost always applies to the foundation.
Slab leaks are major problems for homes, since not only do they end up wasting large amounts of water, they can also cause damage to the house, lead to the growth of mold and mildew, and place extra stress on the water heater if the leaks happen in the hot water lines (which is around 80% of the time). Professional plumbers are trained and equipped to locate slab leaks so they can be fixed.
But why do slab leaks start in the first place? A pipe that's set down in concrete would seem to be well protected from the damages that can lead to pipe breaks. But there are different forces that can create a slab leak underneath a home. Below are three of the more common.